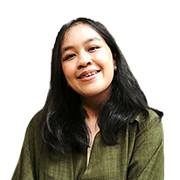 Job Title
Junior Researcher

Qualifications
Dinda received her Bachelor's degree in Urban and Regional Planning from Bandung Institute of Technology.
---
Job Description
Dinda is a junior qualitative researcher. She is responsible for data collection, developing research instruments, and supporting analysis and research findings. Dinda has particular interests in climate change, sustainable development, and regional inequalities.
---
Previous Experience
Prior to joining SMERU, Dinda was involved as a Project Specialist at Boston Consulting Group. She has also completed an internship at UCLG ASPAC, an NGO focusing on localizing global development policies, and worked as a teaching assistant at the Urban and Regional Planning Department, Bandung Institute of Technology.
---