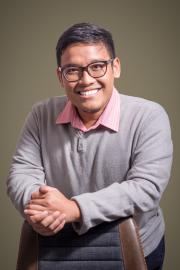 Job Title
Junior Researcher

Qualifications
Goldy received his bachelor's degree in Economics from Universitas Indonesia.
---
Job Description
Goldy is a Junior Researcher for RISE (Research on Improving System of Education) Programme in Indonesia, specializing in econometrics, economic modelling, and impact evaluation studies. He is currently working on impact evaluation of KIAT (Kinerja dan Akuntabilitas) Guru as well as developing SLA and classroom observation for primary and secondary education. In addition, he works on teacher distribution studies.
---
Previous Experience
Before he joins the RISE Programme in Indonesia at SMERU, he was a Teaching and Research Assistant at the Faculty of Business and Economics, Universitas Indonesia. He also worked with INOVASI (The Innovation for Indonesia's School Children) as a Research Assistant.
---
Awards
In 2016, Goldy received an award of XL Future Leaders Scholarship Program which exhibited conferences, leadership training events, and social projects. He also received an ASEAN International Mobility Students Award which gave him the opportunity to take a non-degree education abroad for six months. In 2017, he received a Golden Award in Sharia Economics Days (SECOND) from the Faculty of Economics and Businesses of Universitas Indonesia for his article on Loss Aversion in the Quran. He also completed his undergraduate study with a cum laude predicate complemented with FEB UI Most Inspiring Students award in 2017.
---