Indonesia Jobs Forum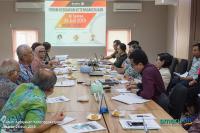 The SMERU Research Institute hosted the 9thIndonesia Jobs Forum (FKK) on 24 July 2018. Chaired by Mrs. Dra. Rahma Iryanti, M.T (Expert Staff of the Minister of National Development Planning for Social Affairs and Poverty Reduction) and under the topic of structural transformation, the forum presented two resource persons, Dr. Asep Suryahadi (Director of SMERU) and Dr. Zulfan Tadjoeddin (Senior Lecturer of Western Sydney University).
The event was attended by 41 participants, consisting of members of the FKK secretariat as well as representatives from the Indonesian Institute of Sciences, Indonesian Entrepreneurs Association, Indonesian Chamber of Commerce and Industry, Coordinating Ministry for Economic Affairs, Presidential Staff Office, Trade Union Rights Centre, Presidential Advisory Council, the National Team for the Acceleration of Poverty Reduction, etc.
On the occasion, Dr. Asep Suryahadi gave a presentation titled "Structural Transformation and the Release of Labor from Agriculture" which highlighted the study findings that people working in rural agriculture have a low probability of moving to other sectors, especially those located in urban areas. Dr. Zulfan Tadjoeddin, spoke on "Urbanization and Labor Productivity in Indonesia" and highlighted the fact that urbanization was linked to increased productivity resulting from higher wages.
Discussions in the forum were related to the structural transformation of the agricultural sector into the manufacturing and service sector as well as urbanization and productivity of workers in Indonesia. In addition, there was also a policy dialog between key stakeholders from the tripartite (executives, workers, and employers) in a broad social dialog related to labor issues in Indonesia.
The Forum on Employment Policy (FKK) is held regularly with the aim of facilitating evidence-based discussions on labor-related policies in Indonesia. This forum involves researchers, academics, and observers of labor issues from various organizations such as SMERU, World Bank, UNIKA Atma Jaya, Padjajaran University, CSIS, and the University of Indonesia.
Visit SMERU's website to access presentation documents (pdf). If you wish to see photo documentation of the seminar, go to The SMERU Research Institute's Facebook page. Information on FKK can be accessed at www.laborforum-id.org