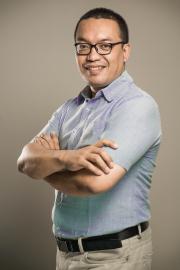 Job Title
Senior Communications Editor

Qualifications
Mukti holds a bachelor's degree in International Relations from Padjadjaran University, Bandung.
---
Job Description
Mukti is a senior communications editor. His responsibilities include writing, translating, editing, and proofreading English and Indonesian articles for the contents of SMERU's website and social media accounts. Along with the other communications team members, Mukti is also tasked to handle photo and video productions of SMERU events.
---
Previous Experience
Prior to joining SMERU as a language editor in 2009, Mukti was a senior staff member of the General English Curriculum and Materials Department of LIA language institute, overseeing a number of English materials and test writers. He had also been an English materials and test writer himself for about nine years at the same institution. In addition, he taught English for general and specific purposes for both adults and children. Before taking the role of a senior communications editor, Mukti was a senior language editor at the Publications and Information Division.
---
LinkedIn:
https://id.linkedin.com/in/mukti-mulyana-a39759ab?trk=prof-samename-name