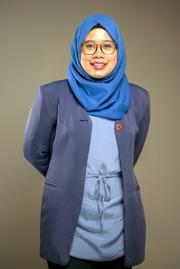 Job Title
Head of Communications Section

Qualifications
Ratri holds a master's degree in Information and Knowledge Management from University Technology of Sydney and an undergraduate degree in Library science from University of Indonesia (Universitas Indonesia).
---
Previous Experience
Before assuming her current position a communication officer in 2015, Ratri was SMERU's research librarian from 2009 to 2014. Prior to joining SMERU, Ratri worked as a librarian at Paramadina University from 2007 to 2009.
---
Awards
Ratri was awarded the Australian Awards Scholarship 2014-2015 for her postgraduate study.
---