Regional Development Forum in Makassar, South Sulawesi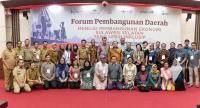 The SMERU Research Institute, in collaboration with the Administration of the Province of South Sulawesi and Bursa Pengetahuan Kawasan Indonesia Timur (BaKTI), held the Regional Development Forum at the South Sulawesi Governor's Office on 8 May 2018. The theme of this event was "Toward a More Inclusive Economic Development in South Sulawesi" and was attended by Minister of National Development Planning Prof. Dr. Bambang P. S. Brodjonegoro, Australian Consulate-General in Makassar Mr. Richard Matthews, policymakers, members of provincial House of Representatives, academics, donor agencies, nongovernmental organizations, practitioners, private sector, media, experts on development issues as well as resource persons and experts from national and regional government.
The forum was aimed at facilitating a policy dialog as well as an exchange of information about good practices and experiences between policymakers, researchers, development partners, and other stakeholders. Through this forum, it is expected that relevant stakeholders can get inputs to inclusive policy formulation and economic development, especially for South Sulawesi.
The event started with opening remarks by Dr. Asep Suryahadi (Director of SMERU), Mr. Richard Matthews, and Drs. H. Jufri Rahman, M.Si. (Head of Provincial Development Planning Agency of South Sulawesi). They were followed by a discussion on "Challenges against Inclusive Development in South Sulawesi" and two talk shows, respectively on "Policy Dialog on Inclusive Development" and "Policy Dialog on Inclusive Economic Development".
The discussion began with the understanding that inclusive economic development should involve all components of society, including the poor, and provide equal access for all members of the society to be involved in the development process. The panelists explained, among other things, about economic growth, inequality, and human development index in South Sulawesi.
Toward the end of the event, Dr. Asep Suryahadi gave a concluding remark. He explained that more innovation is needed to continuously improve the welfare of the poor significantly and to accelerate growth. In addition, there is a need for alignment to marginal groups supported by policies that encourage a conducive business environment.
The event ended with a keynote speech from the Prof. Dr. Bambang P. S. Brodjonegoro, who expressed his hope that South Sulawesi Provincial Government can adopt the policy recommendations from this event.
We invite you to visit SMERU's website to access seminar materials, such as presentation documents (.pdf) and seminar videos through this link: http://bit.ly/ForumPembangunanDaerah-2018
If you would like to view the photo documentation during the seminar event, please visit the SMERU Research Institute's Facebook page (www.facebook.com/SMERUInstitute)